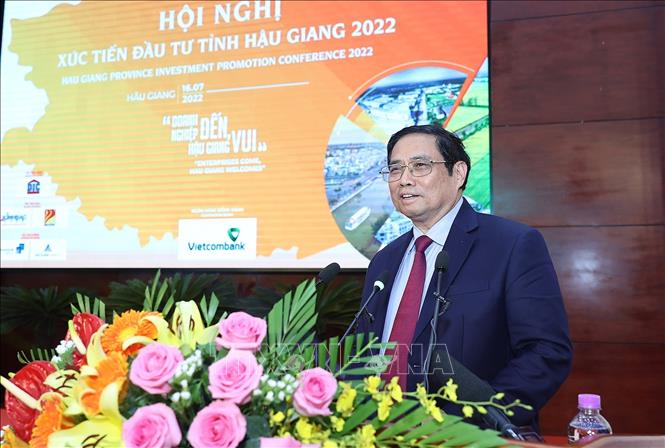 The conference was attended by members of the Party Central Committee: Le Tien Chau, Vice Chairman – General Secretary of the Central Committee of the Vietnam Fatherland Front; Minister, Chairman of the Government Office Tran Van Son; Minister of Industry and Trade Nguyen Hong Dien; Chairman of the Committee for Management of State Capital at Enterprises Nguyen Hoang Anh; President of the Vietnam Women's Union Ha Thi Nga; Deputy Head of the Central Economic Commission Nguyen Thanh Phong; Editor-in-Chief of Communist Magazine Doan Minh Huan; Secretary of Hau Giang Provincial Party Committee Nghiem Xuan Thanh. Also attending were leaders of central ministries and branches; representatives of diplomatic agencies and international organizations; representatives of associations, entrepreneurs, domestic and foreign investors; representatives of provincial leaders in the region.
At the conference, Hau Giang province introduced its potential, strengths, mechanisms and policies to attract investment; Investment Opportunities; orientations for the development of Hau Giang province in the coming time. Accordingly, Hau Giang is located in the center of the Mekong Delta and is the gateway connecting the southern provinces of the Hau River with the rest of the Mekong Delta and economic regions of the country.
Hau Giang province is interested in inviting and attracting investment in industries and projects with high technology content, making great contributions to the budget, having spillover effects, using less area, and being environmentally friendly. . In particular, focus on attracting major industries and fields such as industry, agriculture, urban areas, tourism, services, and logistics.
Also at the Conference, delegates, especially representatives of international organizations, business associations, domestic and foreign investors gave speeches, clarified potential strengths, expressed their support for the project. development of Hau Giang province, propose mechanisms and policies and express the desire to invest in Hau Giang province.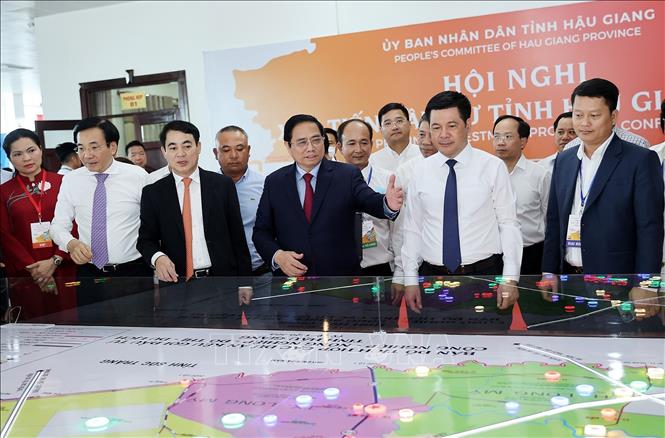 Vietnam has a foundation and is a destination for investors
Speaking at the Conference, Prime Minister Pham Minh Chinh highly appreciated the presence of representatives of international organizations, business community, entrepreneurs and investors; believes that the projects that have been awarded investment decisions, the meetings and search for investment opportunities today will start a strong investment flow, promoting the fast and sustainable development of Hau Giang in the future. next time.
The head of the Vietnamese Government said that Vietnam has many favorable and preeminent factors to become a destination for investors. In which, Vietnam has a social background with a country that loves peace and is a peaceful country; market economy, socialist orientation; Socialist rule of law state; socialist democracy.
To promote this foundation, Vietnam takes people as the center, as the subject, as the goal, motivation and resource for development; bring into full play the Vietnamese human factor in terms of intelligence, talents, qualities, ethics and other capabilities; without sacrificing progress, social justice, social security, and the environment in exchange for mere economic growth; Cultural development is on a par with socio-economic development, because culture remains the country.
In particular, Vietnam persistently, steadfastly and resolutely defends its independence, sovereignty, and territorial integrity; maintain political stability, social order and safety; implement the foreign policy of independence, self-reliance, diversification, multilateralization, be a good friend, a reliable partner for development goals in the world, the region and a responsible member of the community. international; building an independent, self-reliant, proactive economy, able to withstand external fluctuations and actively integrating into the international community, actively, proactively, substantively and effectively.
Vietnam has been promoting doi moi. In which, economic innovation follows three main pillars: elimination of bureaucratic subsidies, multi-sector economic development and integration. Along with that, implementing 3 strategic breakthroughs including infrastructure, institutions, and human resource training. With a population of nearly 100 million people, cultural traditions, solidarity and unity, this is both a resource and a big market for investors.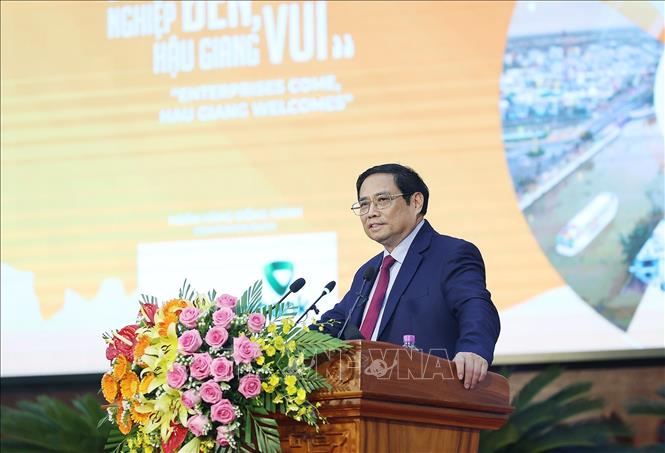 The Prime Minister said that in the past time, the world political and economic situation had many complicated, unstable and unpredictable changes, affecting Vietnam; especially the complicated developments of the COVID-19 pandemic. In that context, Vietnam's socio-economic situation in the first 6 months of 2022 still achieved many important results in many fields. Accordingly, the whole country has well controlled the COVID-19 epidemic; macroeconomic stability; ensure the great balance; independence, sovereignty and territorial integrity are maintained; political security, social order and safety are ensured; foreign relations is strengthened; People's lives are getting better and better…
"These are very encouraging signs, proof of the correct leadership and direction of the Party and State, led by General Secretary Nguyen Phu Trong; the accompaniment of the National Assembly; the efforts of the whole political system and the active support and participation of the business community, the people of the country and international friends; especially affirming the fundamental elements of Vietnam", the Prime Minister emphasized.
Prime Minister Pham Minh Chinh affirmed that the Government is committed and continues to be determined to create a better and more favorable business investment environment; equality, fairness, transparency and objectivity; remove all difficulties and obstacles in all production, business and investment activities with the motto of building a government of integrity, action, serving people and businesses. However, investors and businesses must comply with the law, harmonize national interests, interests of the State, people and businesses.
Hau Giang strives not to "miss the beat", to catch up with investment waves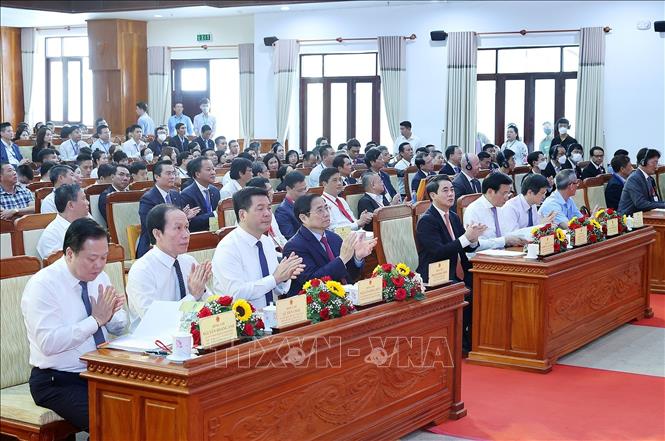 For Hau Giang, it is a province with an important geo-economic position; the land favored by nature, the rice center of the Mekong Delta; the land has a long history of cultural and historical traditions, which is very suitable for eco-tourism, craft villages and festivals; Hau Giang people are dynamic, affectionate and loyal; have a strong and indomitable revolutionary tradition; along with that is the determination and aspiration to rise up of the Party Committee, government and people of Hau Giang province.
According to the Prime Minister, after nearly 20 years of establishment of the province, the government and people of Hau Giang have shared the same passion and suffering, shared the sweetness and the pain, and stuck together to overcome the most difficult periods; transforming itself to rise strongly from internal resources, arousing many potentials and advantages for socio-economic development. Today, Hau Giang converges many favorable factors and has great potential and advantages for socio-economic development, especially agriculture, logistics, energy and tourism…
In particular, the Politburo has issued a Resolution on the development of the Mekong Delta; The Government has a program and action to implement the Resolution of the Politburo and has a development plan for the Mekong Delta region; special resources have been devoted to the development of infrastructure in the Mekong Delta… Therefore, the Prime Minister wants Hau Giang to take advantage of these guidelines and policies; turning potentials into resources for socio-economic development, making people's lives more and more prosperous and happy; turn aspirations into practical and effective actions; develop inner strength.
The Prime Minister suggested a number of areas where businesses should invest in Hau Giang such as: socio-economic infrastructure development, especially investment in traffic infrastructure development, urban development; develop industry, especially energy, processing industry, manufacturing, food industry, and at the same time develop concentrated industrial zones and clusters; developing high-tech agriculture, adapting to climate change, high organic agriculture; develop trade and services, especially investment and development of tourism, logistics, commercial infrastructure, information technology…
Prime Minister Pham Minh Chinh suggested Hau Giang province closely coordinate with ministries, central agencies and localities; greater determination, greater efforts, drastic implementation, synchronization of tasks and solutions with specific plans and action programs so as not to "miss the beat", to catch up with investment waves, create breakthrough, new driving force for rapid recovery and sustainable socio-economic development; at the same time, prepare necessary conditions to meet the increasing requirements of businesses and investors.
In which, focus is on reviewing, evaluating and drawing lessons about what has been done, what has not been done, and problems to be overcome; promote innovation and creativity; thoroughly and effectively implement the policy of fast and sustainable development of Hau Giang province in the overall overall of the Mekong Delta region; continue to strongly improve the business investment environment; speeding up economic restructuring in association with renovating the growth model, improving productivity, quality, efficiency and competitiveness; implementing solutions to develop high-quality human resources; promote research, application and transfer of scientific and technological advances into production and serving people's lives.
The Prime Minister suggested the province to mobilize to the maximum and effectively use state and private resources and other legal resources to focus on investment in infrastructure development; solving difficulties and problems related to land procedures, compensation and site clearance. In particular, Hau Giang province and the ministries and central agencies according to their functions, tasks and management fields shall focus on solving and immediately handling the proposals of investors and enterprises or promptly proposing and giving opinions. competent authorities as prescribed.
Investors need to promote sincere feelings and responsibility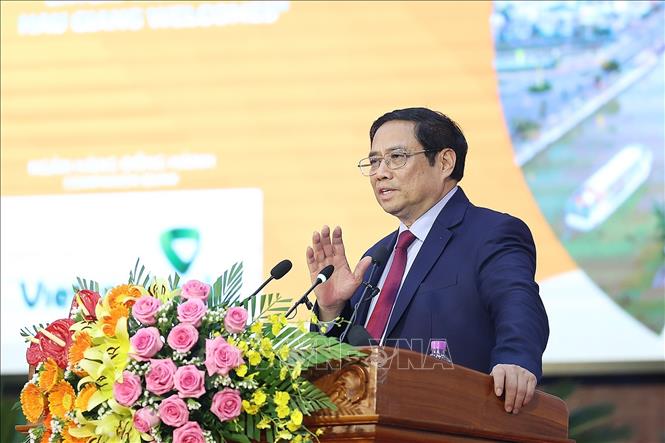 The Prime Minister suggested that investors and businesses need to invest more with sincere affection, trust and responsibility for each other, together to win. Together with Vietnam in perfecting a socialist-oriented, independent, self-reliant and active market economy, proactively integrating into the international community deeply and effectively; Together, we will build an independent and prosperous Vietnam with a prosperous and happy people. With the goal that by 2030, Vietnam will be a developing country with modern industry, high middle income, and by 2045, a developed country with high income.
The Prime Minister expects investors to come to Vietnam in general and Hau Giang in particular with the spirit of "harmonious benefits, shared risks; mind, talent, wisdom, credit; sincere, responsible"; building a long-term, sustainable business strategy, properly implementing investment commitments, cooperation agreements, affirming prestige, talking and doing; good implementation of entrepreneurial culture, say no to negativity. Investors need to raise awareness and responsibility for environmental protection; well implement regimes and policies towards employees; interested in building a safe, friendly and harmonious working environment; Accompanying the government in the spirit of win-win and mutual development.
Enterprises that have signed investment contracts in Hau Giang must implement projects; focus on investment in production and business, creating jobs and jobs, not just real estate development; turn cam investment into material wealth, so that Hau Giang people can enjoy prosperity and happiness," the Prime Minister reminded.
The head of the Government of Vietnam once again affirmed that the Government's development stance is not to sacrifice progress and social justice to pursue economic growth alone, without sacrificing the environment and people's lives. people to attract investment at all costs. The Government continues to closely coordinate with local authorities at all levels to promptly solve problems arising in land acquisition, site clearance, compensation and adequate support for people, creating conditions for local people to receive vocational training, jobs, social welfare, and ensure social order and safety in the locality.
At the conference, Prime Minister Pham Minh Chinh witnessed the awarding ceremony of investment certificates for 12 investment projects in Hau Giang province, with a total capital of 19 thousand billion VND; witnessed the signing ceremony of MOU, investment cooperation and investment school for 10 investors, with a total capital of more than 204 trillion dong, including many leading enterprises such as Sun Group, Him Lam, MASA, Alphanam, FPT…; witnessed the signing ceremony of cooperation between enterprises and organizations with Hau Giang province; witnessed State-owned enterprises awarding 28 billion VND to finance the construction of schools and giving gifts to people with meritorious services in Hau Giang province.


Trang tổng hợp Làm kinh tế, nguồn tham khảo: https://baotintuc.vn/chinh-tri/hau-giang-don-dau-cac-lan-song-dau-tu-tao-dong-luc-moi-de-phat-trien-ben-vung-20220716122648842.htm