Going to be away from your inbox for a while and wondering how to write effective out-of-office messages? To write effective out-of-office messages or an 'ooo' for short, follow these simple steps: 
Consider who normally emails you and what they email you about. Shape your ooo message to help these people
Set up and schedule your out-of-office in advance
Don't go into too much detail. Keep your ooo factual, professional and helpful
Set up different messages for internal and external contacts at work
Include contact details of people who can help in your absence if emails really can't wait until you're back
Share the date that you expect to be able to reply to emails again
Let people know if your inbox will be monitored during your absence or not
Use your phone to set or update your out of office if you forget before leaving the office
Emails are one of the top methods of communication in business, so whether your bags are packed, the clock is ticking down and you're ready to shut down your emails and enjoy a well-earned break, or will be unable to respond for some time for another reason, then it's important to remember to let your colleagues, contacts know that you won't be checking your inbox for a while.
Read on for all the information you need to know about how to write effective out-of-office messages to ensure you don't come back to an overflowing inbox, business productivity can continue, and your contacts can still get the help they need while you're away. 
What Is An Out Of Office Message?
An out-of-office message, or ooo for short, is an automated response that is sent from your email account in reply to emails that have been sent to your email address. This message is commonly used to let people know that the inbox owner is either away from work, or tied up on other projects, meaning that they will be unable to respond to the email received for a while.
Once an ooo is set up in your email settings, your message will be sent out to anyone who emails you without you having to manually type or send it. You can set your ooo to be sent as a reply to all incoming mail, just external mail or just internal mail, and with some email providers, you can even have different messages set up for both types of audiences.
Tips For Writing An OOO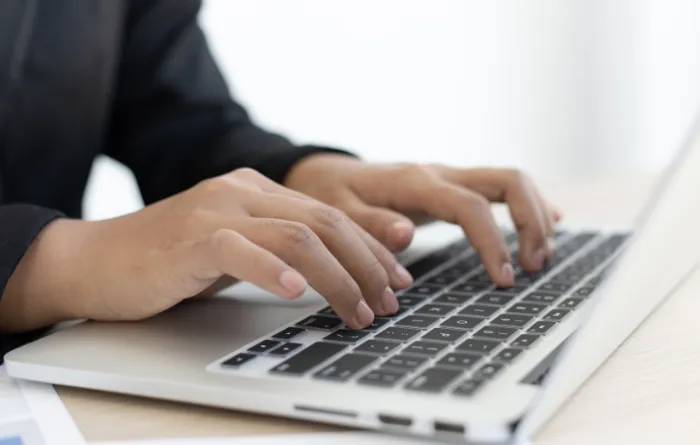 As with everything, there are good out-of-office messages and bad ones. To keep your next ooo in the useful camp, here are our top tips to help you write the most effective ooo message the next time your inbox will be unmanned.
Use The Timed Publish Options To Set Your Out Of Office In Advance
Most email providers have a setting that allows you to write and schedule your ooo message ahead of time. This ensures that your out-of-office goes on and is turned off at the right time and that you have time to write a proper message, rather than rushing to write and set it as you walk out of the door, or worse still, forget to set one entirely!
Don't Go Into Too Much Detail. Keep It Factual And Helpful 
You don't need to explain in detail why you are not in the office, just simply that you're not there and when you will be returning if you know. So don't worry about telling the world that you're having your wisdom teeth removed or that you're staying with your Aunt in Australia, as nobody needs to know this information.
You should also be aware that anyone who emails you will see the information that you put in your message. For this reason, it's best to keep it professional and refrain from writing anything too informal that could give a bad first impression when you're not even around, or broadcasting sensitive information to strangers like your home being empty.
Keeping your ooo simple and factual will make it easy for readers to find the information they need like who to contact in your absence and the date you will be back.
Use Different Messages For Internal & External Contacts
Most email providers will give you the option to use the same or different messages for your internal and external email contacts. Whilst using the same message for both audiences can save you time, there may be times when you choose to leave a slightly more informal message for your colleagues or need to leave specific information for them that external contacts or clients don't need to see.
Include Alternative Contact Details To Cover Your Absence 
If you have a colleague, manager or another team that can respond to email enquiries on your behalf while you're away, you should always include this information in your ooo message.
This ensures that if anything urgent comes in, the email sender will know who can help them in your absence. Even if you have a very specialist job role or are the only one in your department, there will usually be somebody else who can at least give a holding response on your behalf, even if they can't answer a question fully.
Taking this step can prevent any unnecessary worry for email senders who need to progress matters before your return, and means you can relax knowing that your emails aren't backing up for your return.
If you are away from work as a result of sickness or an emergency, then you may not know when you will be back, but in most other circumstances it is usually possible to give either an indication of the time frame you will be away or the exact date that you will return. Sharing this information will help to set expectations of when you will be likely to respond to any messages sent to you while you were away.
Let People Know If Your Inbox Will Be Monitored In Your Absence 
Just because you're not looking at your inbox, it doesn't always mean that your emails will go unanswered. If you share a mailbox with several people, or other people have permission to read and reply to emails in your inbox on your behalf, it's helpful to include this information in your ooo message. Knowing if an email will be read or not before your return will help email senders to plan their actions and workload accordingly and prevent doubling up on tasks that have already been actioned on your return.
Use Your Phone To Set And Update Your Out Of Office 
If you forget to set your ooo before leaving the office and have a cumbersome remote login procedure to access your work email account, most people will be able to access and update their out-of-office message on their phone.
It's worth noting however that mobile access to ooo settings will depend on the email provider that your company uses and the level of security that they have set up for remote email access.
This on-the-go access to your ooo settings is also useful if your time away from the office is going to be longer than expected or occurs unexpectedly. Being able to update your ooo remotely from your phone saves you from having to get out your work laptop or ask a colleague to update it on your behalf.
Be aware that the 'save' settings can be more difficult to find on your phone, so always double-check that your message is displaying and working properly by sending an email to yourself after you have updated it.
Example Out Of Office Message
Stuck on what to put in your ooo? Use our handy example below as the basis for your message.
Thank you for your email. I am currently out of the office until [return date]. 
I will reply to your message when I return but this inbox won't be checked before then. 
If you need assistance in the meantime, please contact [name of colleague + their job title] at [email, phone, etc.]
[Your sign off and signature]
Benefits Of A Good Out-Of-Office Message
An effective out-of-office message can prevent your inbox from overflowing with meaningless emails whilst you're away as in theory you will have provided the information email senders need to get the help they need in your absence.
Having a useful ooo displayed may reduce the number of emails that you find in your inbox when you return because if you can direct people to the help they need in your absence, it's likely that they will be able to answer their query before you're back, giving you less to think about!
Productivity isn't affected. If you're an important cog in business operations, people likely come to you with all sorts of questions. If you can direct people to somebody else who can help in your absence with a good ooo message, then there is no reason that business productivity should slow down when you're away.
Who Should Use OOO Messages
Whether you choose to use out-of-office messages or not will probably depend on the type of work you do, if there is a related company policy on ooo messages at your place of work, how many emails you tend to get during your working day, whether you work alone and are the only person with access to the account, or if you work as part of a team where several people can monitor and respond to emails received when you're not around.
If you know that you will be unavailable to respond to emails received for some time, think about how this might impact the people who are emailing you or if anyone else can respond on your behalf, and how urgent incoming emails are likely to be.
The likelihood is, for most people who use emails in their personal or professional life, setting an out of office is a simple, quick, and useful step to take when you will not be monitoring your inbox for any period. An ooo can help set expectations on reply times and prevent unnecessary frustration for people waiting on a reply to unanswered emails.
When To Put An Out-Of-Office On?
The most common scenarios when people tend to use an out-of-office message are when they are absent from work due to sickness or if they are on annual leave for several days at a time. There are however plenty of other scenarios where it can be useful, and good practice to put an out-of-office message on your work or personal email account as outlined below.
Part-Time Hours 
Depending on your working hours, you may also find it useful to use an out of office on days or part days that you're not working. For example, if you work part-time and are only in the office on Monday, Wednesday and Thursday, then it can be helpful to people contacting you if you use an out-of-office that lets people know when your next working day will be, especially if it differs from a regular 9-5 schedule. This helps to set expectations on when they will hear back from you and prevents them from chasing you up before you've even had a chance to look at the first email that they've sent you.
Unplanned Absences Or Appointments
If you have been called away unexpectedly or have to leave work early for an appointment, it's helpful to take 30 seconds to put your out-of-office message on before you go to keep your contacts in the loop.
Set Expectations For Response Times 
Another example of when it's good to use an out-of-office message is when you want to share information about response times with people who email you. For example, if you have a 3-5 day response time for new enquiries or quote requests, it can be incredibly useful to let people who are emailing you know this by using your out-of-office as an autoresponder. This sets their expectations and again, prevents them from chasing you up for a response before you've had a chance to process their original enquiry.
When You're Busy 
If you're likely to be in meetings or on calls for most of the day, then it's unlikely that you will be able to keep on top of your emails as well. For days like these, setting up an out-of-office is a useful way to let people know that you're busy and may be slower than useful in responding to emails. Within your message, you can tell people that you will get back to people after your meeting has finished or on the following day. This is especially useful for people who like to clear their inbox and reply to emails the same day as they arrive or have contacts that expect this level of service from you.
When You've Left The Company Or No Longer Check The Inbox
If you've left your current role, or know that you will no longer be checking a specific email account, it can be helpful to anyone who may still have and use that email address to let them know. A simple out-of-office note stating that the inbox is no longer in service or that it is not being checked anymore can help prevent frustration arising when people who are unaware of your departure try to reach you after you've left. If you can include the new contact details to use in your absence, that's even better.
Can I Use An Out-Of-Office On My Personal Email?
If you work in an office or have a work email address then setting your out-of-office message when you're not going to be at work for a while is probably second nature, but have you ever thought to use one for your personal email address? Using an out of office for a personal email address can be useful too, and is just as easy to set up as your work one.
While you may think that you only get order confirmations, newsletters that you've forgotten you've signed up to and spam clogging up your inbox, setting an out-of-office for your personal email account is a good bit of personal admin that lets senders know they've reached the right person and when they can expect a reply from you.
Summary
Although it may feel like we're chained to our emails, taking time away from your inbox is necessary and healthy. Whether it's for a holiday, sickness, meetings, or you've simply finished your working day, using out-of-office messages is a polite and professional way of keeping your contacts, colleagues and friends in the loop about your movements, availability, and when they can expect to receive a response to their email.
This helpful email feature can be found in any email provider's settings, and when used properly, it can help to manage expectations, keep workplace productivity going, and prevent unnecessary concerns over delayed email responses from arising.
If you're wondering how to write effective out-of-office messages, we hope this article has given you the overview that you need but to recap make sure that you;
Tailor your message to the people who tend to email you
Set up and schedule your out-of-office in advance
Don't go into too much detail. Keep your ooo factual, professional and helpful
Set up different messages for internal and external contacts at work
Include alternative contact details where possible
Share the date that you expect to be able to reply to emails again
Let people know if your inbox will be monitored during your absence or not
Use your phone to set or update your out of office if you forget before leaving the office
Trang tổng hợp Làm kinh tế, nguồn tổng hợp: Đầu tư kinh tế